Perceptions towards COVID 19 and Reflections on Aarogya Setu Mobile Application Use among Keralites
Regi Jose

Sree Gokulam Medical College and Research Foundation, Venjaramoodu

Benny  P V

Professor & Head, Department of Community Medicine

Meghana Narendran

Tutor/Senior Resident, Department of Community Medicine

Anil Bindu

Professor, Department of Community Medicine
Keywords:
COVID-19, Corona Virus, WHO COSMO Protocol, Aarogya Setu, Mobile health technology, Community Perceptions, Kerala, India
Abstract
Background: Across the World, people trapped in the darkness of a standstill economy because of the lockdown are all looking for ways to once and for all fix the problems caused by SARS-CoV-2 virus and to prevent further damages. India's lockdown strategy could block the disaster for some time. Kerala, a small state in India with good healthcare infrastructure, was the first to detect a case in the country. Technology has played a tremendous role in updating the community and active surveillance of the disease. In the era of smartphones and mobile applications which has a great impact on today human actions and interactions, authorities use it as a good channel for communication as well as surveillance. Even though there are many concerns regarding privacy, a well-protected application with widespread reach can play a role in pandemic situations.
Aarogya Setu is a mobile application (app) developed by the Government of India to connect essential health services with the people of India in our combined fight against COVID-19. The App is aimed at augmenting the initiatives of the Government of India, particularly the Department of Health, in proactively reaching out and informing the users of the app regarding risks, best practices, and relevant advisories pertaining to the containment of COVID-19. Therefore, this study is taken up to assess the perception of the healthcare workers and the general population towards COVID 19 and their reflections on the Aarogya Setu application.
Methods: A Cross-sectional study using rapid assessment methods that take into account rapid behavioural changes owing to a pandemic situation was conducted. Quick data collection was done using google forms shared by medical students living in different parts of the state using social media platforms, and the survey was closed in 72 hours (28th-30th April 2020) and the available data (700) was analysed. This study has all inherent limitations of rapid assessment methods especially because it was conducted during a complete lockdown situation.
Results: Among the total study participants, 325(47.8%) were related to the healthcare field and more than half of the study participants were students less than 25 years. Almost all participants (97%) were aware of the pandemic situation. Everyone similarly approached the pandemic situation in terms of perceived susceptibility and severity. Relation to the healthcare field did not make any difference in the knowledge or attitude towards the disease. Among 82% who were aware of the Aarogya Setu app, only 22% had downloaded it and still, only 9% found it to be useful. No significant association was observed across education status, profession, or age.
Conclusion: Most people living across Kerala similarly approached the COVID-19 pandemic, irrespective of age, education or relation to the healthcare field. Even though smartphones are widely used, people were reluctant to download the app and use them. Aarogya Setu may become useful if or when there is community transmission; but at the time of writing, Kerala was considered safe at the current stage.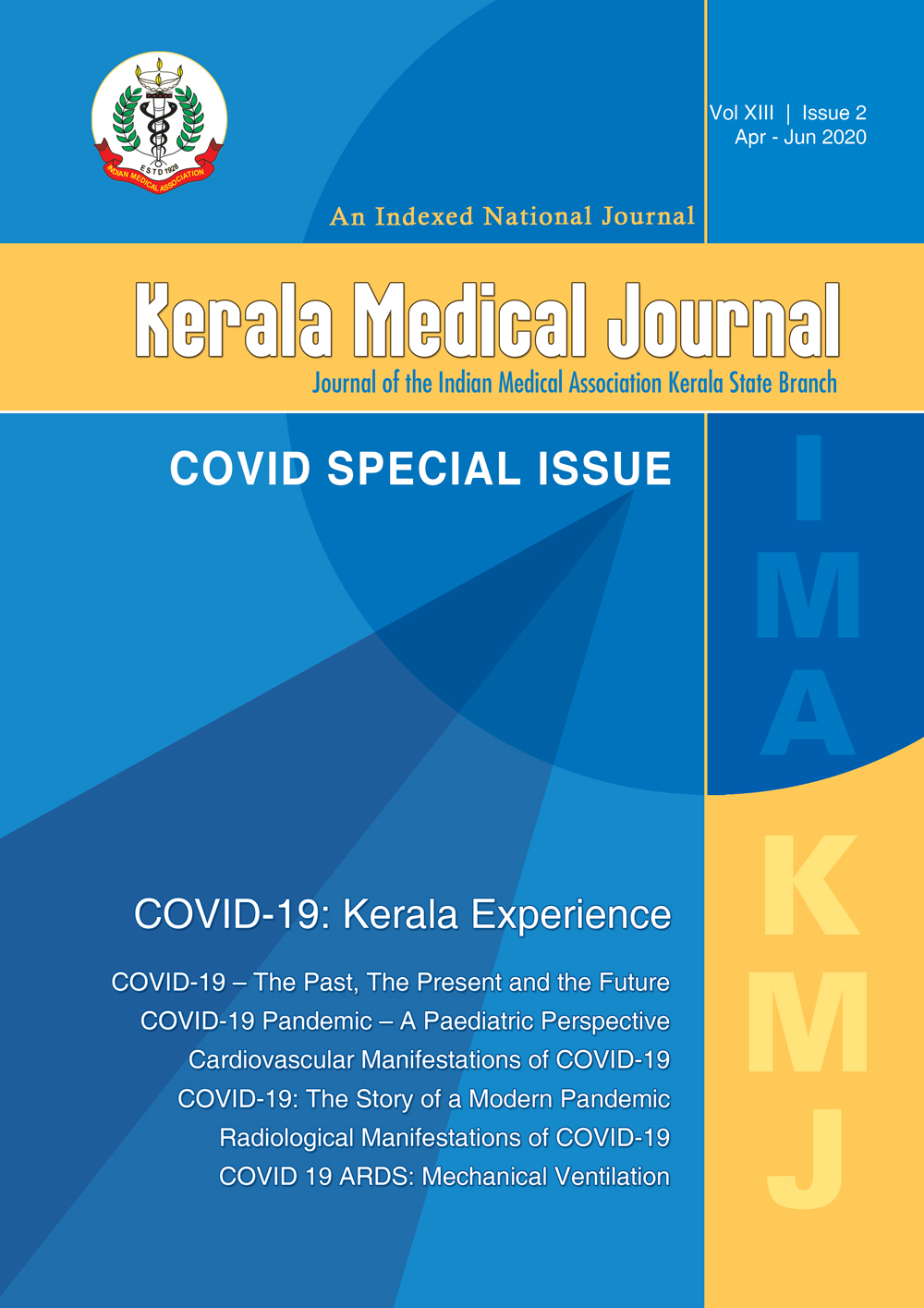 How to Cite
Jose, R.,  P V, B., Narendran, M., & Bindu, A. (2020). Perceptions towards COVID 19 and Reflections on Aarogya Setu Mobile Application Use among Keralites. Kerala Medical Journal, 13(2), 57-61. Retrieved from https://www.keralamedicaljournal.com/index.php/KMJ/article/view/502
Section
Original Research
When publishing with Kerala Medicial Journal (KMJ), authors retain copyright and grant the journal right of first publication with the work simultaneously licensed under a Creative Commons Attribution Non Commercial (CC BY-NC 4.0) license that allows others to share the work with an acknowledgement of the work's authorship and initial publication in this journal. Work includes the material submitted for publication and any other related material submitted to KMJ. In the event that KMJ does not publish said work, the author(s) will be so notified and all rights assigned hereunder will revert to the author(s).
The assignment of rights to KMJ includes but is not expressly limited to rights to edit, publish, reproduce, distribute copies, include in indexes or search databases in print, electronic, or other media, whether or not in use at the time of execution of this agreement.
Authors are able to enter into separate, additional contractual arrangements for the non-exclusive distribution of the journal's published version of the work (e.g., post it to an institutional repository or publish it in a book), with an acknowledgement of its initial publication in this journal.
The author(s) hereby represents and warrants that they are sole author(s) of the work, that all authors have participated in and agree with the content and conclusions of the work, that the work is original, and does not infringe upon any copyright, propriety, or personal right of any third party, and that no part of it nor any work based on substantially similar data has been submitted to another publication.