Pentavalent Vaccine – Critisised in Asian Countries
PV Benny

Sree Gokulam Medical College, Kerala, India
Abstract
Every year, more than 2.5 billion doses of vaccines are used globally to immunize children under the age of 10 year. Immunization is the key to protecting children from many complicating diseases, including polio, measles, diphtheria, and tetanus. From 2005 to 2010, global demand for the pentavalent vaccine increased quickly. Pentavalent vaccine has been progressively introduced in Asian countries after the Haemophilus influenzae type b (Hib) vaccine has usually been introduced as a component of a combination pentavalent vaccine, which has replaced the traditional diphtheria–tetanus–whole-cell pertussis (DTwP) or DTPwP-hepatitis B vaccines. This "five-in-one" combination of vaccine protects children from diphtheria, pertussis (whooping cough), tetanus, hepatitis B and Haemophilus influenzae type b (Hib) which causes pneumonia and meningitis. It is less traumatic for babies to receive and easier for administering the vaccine than previous formulations.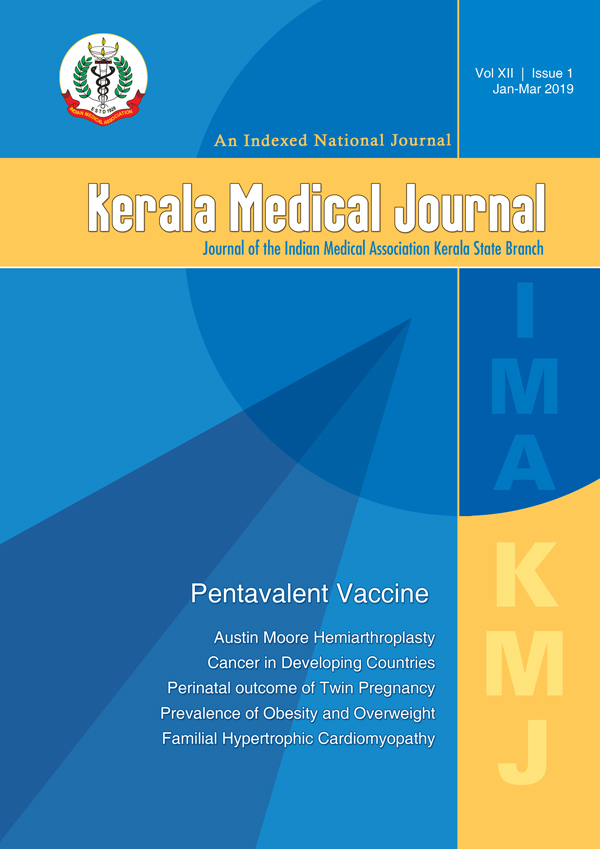 How to Cite
Benny, P. (2019). Pentavalent Vaccine – Critisised in Asian Countries. Kerala Medical Journal, 12(1), 1-2. Retrieved from https://www.keralamedicaljournal.com/index.php/KMJ/article/view/547
When publishing with Kerala Medicial Journal (KMJ), authors retain copyright and grant the journal right of first publication with the work simultaneously licensed under a Creative Commons Attribution Non Commercial (CC BY-NC 4.0) license that allows others to share the work with an acknowledgement of the work's authorship and initial publication in this journal. Work includes the material submitted for publication and any other related material submitted to KMJ. In the event that KMJ does not publish said work, the author(s) will be so notified and all rights assigned hereunder will revert to the author(s).
The assignment of rights to KMJ includes but is not expressly limited to rights to edit, publish, reproduce, distribute copies, include in indexes or search databases in print, electronic, or other media, whether or not in use at the time of execution of this agreement.
Authors are able to enter into separate, additional contractual arrangements for the non-exclusive distribution of the journal's published version of the work (e.g., post it to an institutional repository or publish it in a book), with an acknowledgement of its initial publication in this journal.
The author(s) hereby represents and warrants that they are sole author(s) of the work, that all authors have participated in and agree with the content and conclusions of the work, that the work is original, and does not infringe upon any copyright, propriety, or personal right of any third party, and that no part of it nor any work based on substantially similar data has been submitted to another publication.