Austin Moore Hemiarthroplasty Visa Vis Bipolar Arthroplasty in the Management of Neck of Femur Fractures
Jai KS Krishnan

Sree Gokulam Medical College & Research Foundation, Kerala, India
Keywords:
Austin-Moore Arthroplasty, Bipolar Arthroplasty, Fracture Neck of Femur, Prosthesis
Abstract
Background: Fracture neck of femur remains an unsolved fracture to orthopedic surgeons. Hemiarthroplasty with Austin Moore prosthesis in long term follow-up showed unsatisfactory results due to femoral stem loosening, acetabular erosions, intrusion of prosthesis into pelvis and difficulties to total hip conversion. These factors led to the development of bipolar prosthesis which may prevent the grinding of the metallic head over the bony acetabulam and degenerative changes.
Materials and Methods: This is a descriptive study, case series of femoral neck fractures, 20 cases each (Total 40 cases) using Austin Moore and Bipolar prosthesis were done. The results were evaluated using Merele'D' Aubigne–Charnley hip score with regards to ability to walk, pain in hip and movement of hip.
Results: In the prospectively studied cases, Austin- Moore hemiarthroplasty showed 77.78% of excellent result and 22.22% of good results, where as in Bipolar arthroplasty 87.5% showed excellent result and 12.5% showed good result. In the retrospectively studied cases, Austin- Moore hemiarthroplasty showed 72.73% good result and 27.27% poor results, where as in Bipolar arthroplasty 41.67% showed excellent results and 58.33% showed good results. Conclusion: Bipolar arthroplasty is a good operation for fracture neck of femur with satisfactory results in rural patients in long term follow up (follow-up to 5½ years). But in case of short term follow-up (followed up to 2 ½ years) both Austin-Moore arthroplasty Bipolar arthroplasty showed more or less similar end results.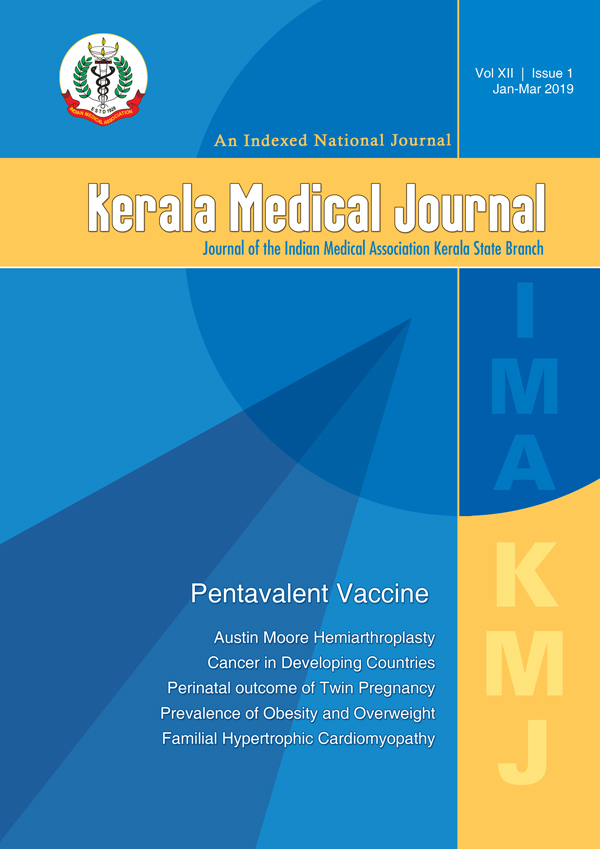 How to Cite
Krishnan, J. (2019). Austin Moore Hemiarthroplasty Visa Vis Bipolar Arthroplasty in the Management of Neck of Femur Fractures. Kerala Medical Journal, 12(1), 3-7. Retrieved from https://www.keralamedicaljournal.com/index.php/KMJ/article/view/548
Section
Original Research
When publishing with Kerala Medicial Journal (KMJ), authors retain copyright and grant the journal right of first publication with the work simultaneously licensed under a Creative Commons Attribution Non Commercial (CC BY-NC 4.0) license that allows others to share the work with an acknowledgement of the work's authorship and initial publication in this journal. Work includes the material submitted for publication and any other related material submitted to KMJ. In the event that KMJ does not publish said work, the author(s) will be so notified and all rights assigned hereunder will revert to the author(s).
The assignment of rights to KMJ includes but is not expressly limited to rights to edit, publish, reproduce, distribute copies, include in indexes or search databases in print, electronic, or other media, whether or not in use at the time of execution of this agreement.
Authors are able to enter into separate, additional contractual arrangements for the non-exclusive distribution of the journal's published version of the work (e.g., post it to an institutional repository or publish it in a book), with an acknowledgement of its initial publication in this journal.
The author(s) hereby represents and warrants that they are sole author(s) of the work, that all authors have participated in and agree with the content and conclusions of the work, that the work is original, and does not infringe upon any copyright, propriety, or personal right of any third party, and that no part of it nor any work based on substantially similar data has been submitted to another publication.