Antibiotic Resistance: A Serious Global Public Health Threat
PV Benny

Sree Gokulam Medical College, Kerala, India
Abstract
The global public health concern for the antibiotic resistance is not a future issue; it is happening right now in every region of the world and has the potential to affect anyone, of any age, in any part of the world. New WHO reports, with data from 114 countries provides the comprehensive picture about the situation. Antibiotics have been extensively misused in both humans and food-producing animals in ways that favour the selection and spread of resistant bacteria. Without a global policy on usage of antibiotics, the world is headed for post-antibiotic era, which is deadly even with minor infection or injury. In his Nobel Prize speech in 1945, Alexander Fleming, who discovered penicillin, warned that bacteria could become resistant to these remarkable drugs.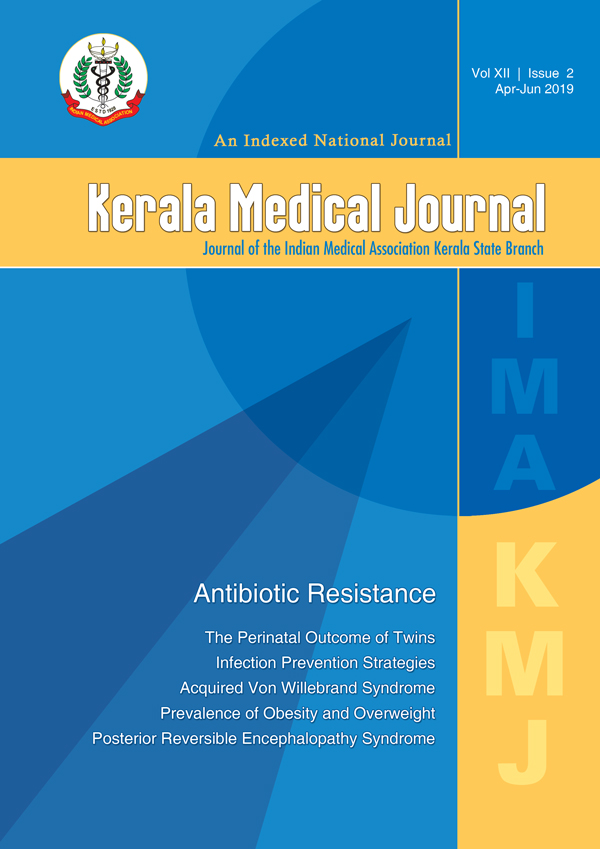 How to Cite
Benny, P. (2019). Antibiotic Resistance: A Serious Global Public Health Threat. Kerala Medical Journal, 12(2), 29-30. Retrieved from https://www.keralamedicaljournal.com/index.php/KMJ/article/view/555
When publishing with Kerala Medicial Journal (KMJ), authors retain copyright and grant the journal right of first publication with the work simultaneously licensed under a Creative Commons Attribution Non Commercial (CC BY-NC 4.0) license that allows others to share the work with an acknowledgement of the work's authorship and initial publication in this journal. Work includes the material submitted for publication and any other related material submitted to KMJ. In the event that KMJ does not publish said work, the author(s) will be so notified and all rights assigned hereunder will revert to the author(s).
The assignment of rights to KMJ includes but is not expressly limited to rights to edit, publish, reproduce, distribute copies, include in indexes or search databases in print, electronic, or other media, whether or not in use at the time of execution of this agreement.
Authors are able to enter into separate, additional contractual arrangements for the non-exclusive distribution of the journal's published version of the work (e.g., post it to an institutional repository or publish it in a book), with an acknowledgement of its initial publication in this journal.
The author(s) hereby represents and warrants that they are sole author(s) of the work, that all authors have participated in and agree with the content and conclusions of the work, that the work is original, and does not infringe upon any copyright, propriety, or personal right of any third party, and that no part of it nor any work based on substantially similar data has been submitted to another publication.