Awareness and Symptoms of Computer Vision Syndrome among Computer Users
Bindu Thampi

Sree Gokulam Medical College, Trivandrum, Kerala

J Antony

Sree Gokulam Medical College, Trivandrum, Kerala, India

Ajith Mohan M

Sree Gokulam Medical College, Trivandrum, Kerala, India

Varsha Vijayan

Sree Gokulam Medical College, Trivandrum, Kerala, India
Keywords:
Computer Vision Syndrome, Dry Eye, Visual Hygiene
Abstract
Background: Computer Vision Syndrome (CVS) is a series of visual symptoms caused by excessive viewing of Visual Display Terminal (VDT) screens without proper attention to practical visual hygiene. This study was to assess the awareness and extent of symptoms of Computer Vision Syndrome among computer users.
Materials & Method: Cross-sectional study conducted between January and May 2014. Structured questionnaire was given to 220 computer users 20-40 years of age.
Results: Data was collected from 220 computer users (106 males and 114 females). Median age was 29.83. About 79% indicated 'yes' to at least one symptom. 25.9% were aware of Computer Vision Syndrome. Most common symptom was headache (37.35%).The other symptoms were eye strain (29.88%), dryness (15.51%), watering of eyes (12.06%), and others symptoms like blurred vision, redness (5.2%). All of them used computers with screen at the level of eyes.
Conclusion: CVS is a significant occupational hazard in people using VDT for prolonged duration. Computer Vision Syndrome symptoms was experienced by 79% of computer users in the study group with common symptom being headache. Proper awareness and preventive measures such as work place ergonomics may help in reducing the incidence.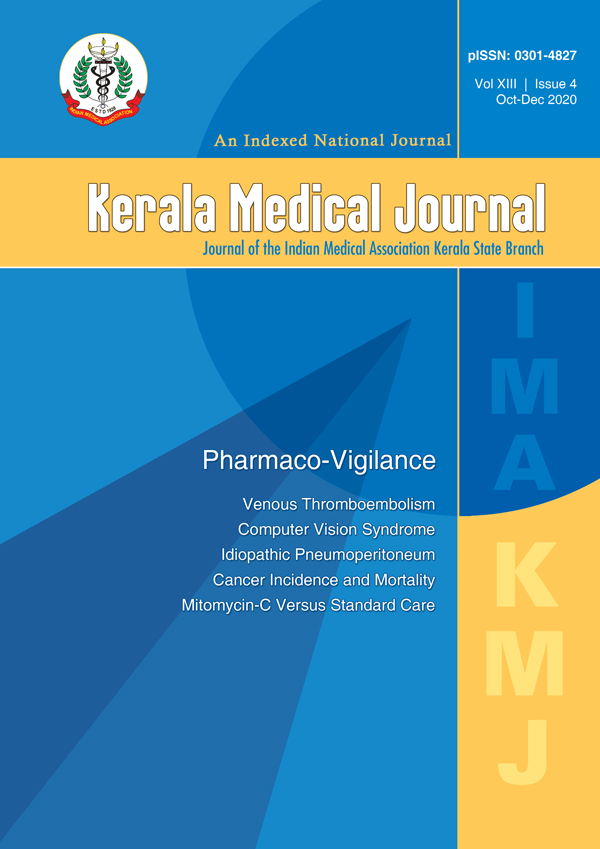 How to Cite
Thampi, B., Antony, J., M, A., & Vijayan, V. (2020). Awareness and Symptoms of Computer Vision Syndrome among Computer Users. IMA Kerala Medical Journal, 13(4), 127-130. https://doi.org/10.52314/kmj.2020.v13i4.589
Section
Original Research