Randomised Controlled Trial of Mitomycin-C Versus Standard Care in Middle Meatal Antrostomy
Shaheer Ibrahim A

Sree Gokulam Medical College & Research Foundation, Trivandrum, Kerala, India

K Krishnan

Sree Gokulam Medical College & Research Foundation, Trivandrum, Kerala, India

KB Rajamma

Sree Gokulam Medical College & Research Foundation, Trivandrum, Kerala, India
Keywords:
Middle Meatal Antrostomy, Mitomycin-C, Synechiae Formation, Ostial Stenosis
Abstract
Background: Perioperative use of topical Mitomycin-C has been found to be effective in reducing stenosis and synechiae formation after Endoscopic Sinus Surgery (ESS). Meticulous postoperative care with frequent nasal douching can prevent crusting and adhesion to a great extent. This study is to examine the clinical effects of Mitomycin-C applied to the sinonasal mucosa and to determine whether such an application significantly alters the incidence of postoperative maxillary sinus ostium stenosis and adhesion formation thereby improving the surgical outcome.
Materials & Methods: Randomised controlled trial of Mitomycin-C versus standard care in Middle meatal antrostomy in prevention of post operative synechiae and ostial stenosis. This study was conducted in a tertiary care teaching hospital in Kerala state of India, from December 2012 to May 2014. A total of 60 patients were included in this, consists of 30 experimental group and 30 control group. Intra operatively Mitomycin–C (MMC) was topically applied over the Middle meatal antrostomy site in the experimental group.
Results: There was a statistically significant difference in the occurrence of maxillary sinus ostium stenosis and synechiae formation in the experimental group with Mitomycin-C application as compared to the control group in the 1st, 3rd and 6th month follow up. ). At 3 months 40% in control group got synechiae, and only 3.3% in experimental group (p-value = 0.001), and in 6 months 56.7% of the control group got synechiae compared with 6.7% in experimental group (p-value = <0.0001) A highly significant reduction in stenosis, compared to control group after six months of surgery in experimental group (93.3 % experimental group were free from stenosis compared to 66.7% of the control group, p-value of 0.009.
Conclusion: The topical application of MMC is helpful in prevention of post operative complications like synechiae formation and ostial stenosis.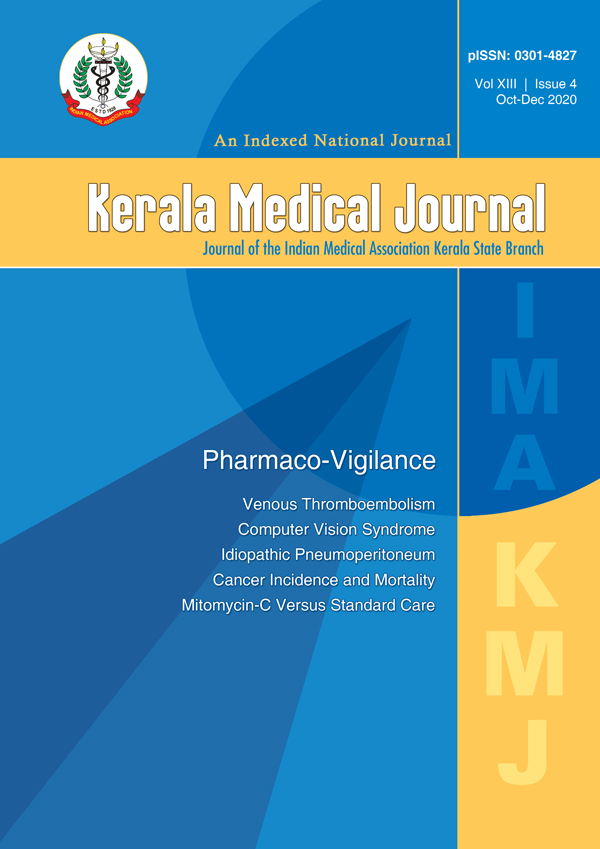 How to Cite
A, S., Krishnan, K., & Rajamma, K. (2020). Randomised Controlled Trial of Mitomycin-C Versus Standard Care in Middle Meatal Antrostomy. IMA Kerala Medical Journal, 13(4), 135-140. https://doi.org/10.52314/kmj.2020.v13i4.591
Section
Original Research