RT-PCR Negative COVID 19 – Akin to Smear Negative Pulmonary Tuberculosis? – A Case Report
B Ganesh

Kerala Institute of Medical Sciences, Trivandrum, Kerala

P Arjun

Kerala Institute of Medical Sciences, Anayara P.O, Trivandrum

K A Ameer

Department of Respiratory Medicine, Kerala Institute of Medical Sciences, Anayara P.O, Trivandrum, Kerala

Vinodkumar Kesavan

Kerala Institute of Medical Sciences, Anayara P.O, Trivandrum, Kerala

A Rajalakshmi

Anayara P.O, Trivandrum, Kerala

Muhammad Niyas

Anayara P.O, Trivandrum, Kerala

R Muralidharan

Kerala Institute of Medical Sciences, Anayara P.O, Trivandrum, Kerala

V Deepak

Kerala Institute of Medical Sciences, Anayara P.O, Trivandrum, Kerala
Keywords:
False negative RT-PCR, COVID 19 antibody test, CO-RADS
Abstract
We report a case of 34-year-old physician who presented with classical clinicoradiological features suggestive of COVID-19 but five sequential rRT-PCR (real time Reverse Transcription Polymerase chain reaction) tests were negative. After admission, he was hypoxic and febrile. He had clinical worsening and laboratory parameters suggestive of an impending cytokine storm and he was appropriately managed as per institution protocol. Meanwhile, his antibody test for COVID 19 came positive for both Ig G and Ig M with high IgM level. He had a dramatic recovery and was discharged within 10 days. It is difficult to distinguish COVID-19 pneumonia from other viral pneumonia based on RT-PCR and CT findings alone. In this context, this case report is being published to highlight this fact.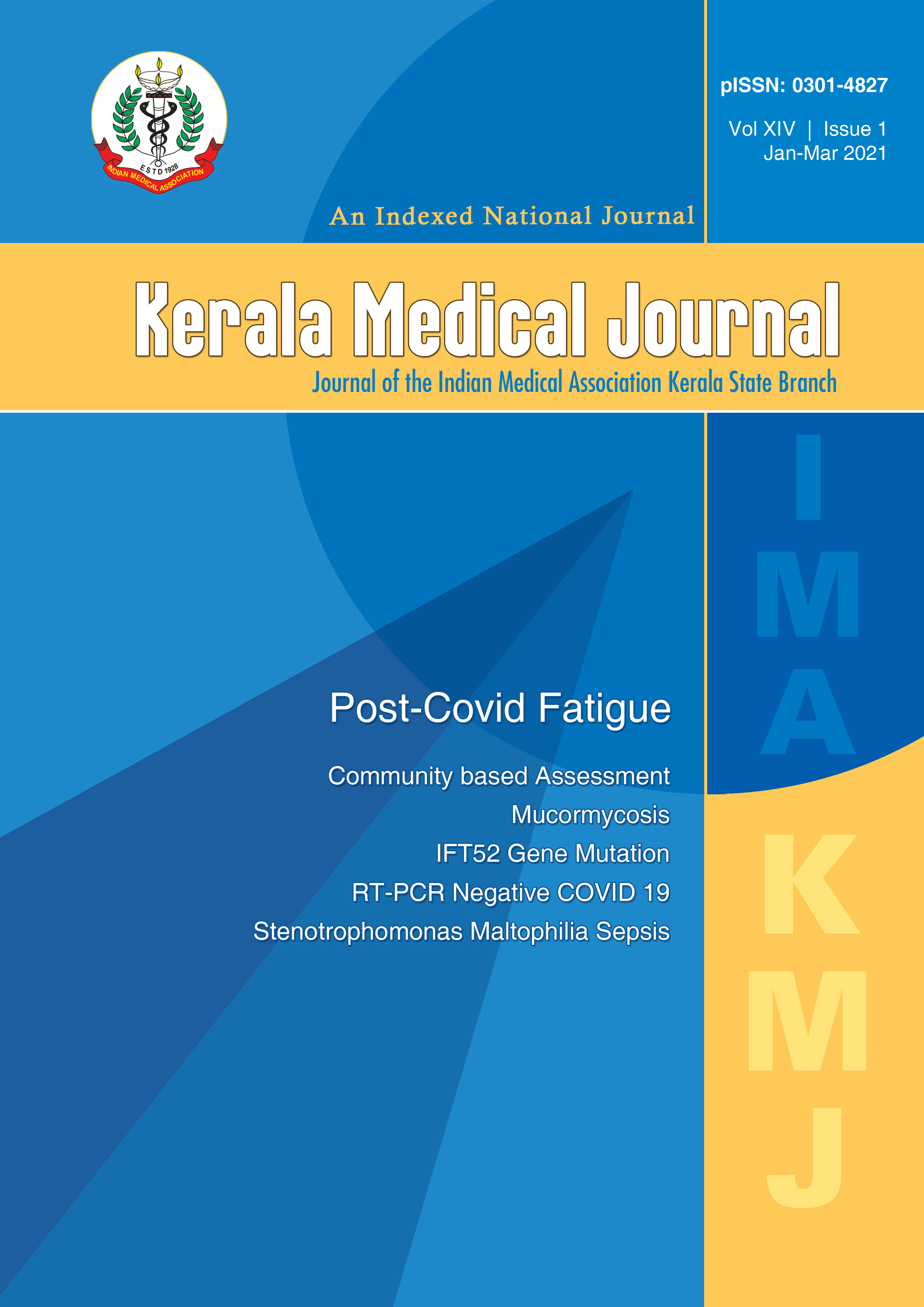 How to Cite
Ganesh, B., Arjun, P., Ameer, K., Kesavan, V., Rajalakshmi, A., Niyas, M., Muralidharan, R., & Deepak, V. (2021). RT-PCR Negative COVID 19 – Akin to Smear Negative Pulmonary Tuberculosis? – A Case Report. Kerala Medical Journal, 14(1), 14-17. Retrieved from https://www.keralamedicaljournal.com/index.php/KMJ/article/view/601
When publishing with Kerala Medicial Journal (KMJ), authors retain copyright and grant the journal right of first publication with the work simultaneously licensed under a Creative Commons Attribution Non Commercial (CC BY-NC 4.0) license that allows others to share the work with an acknowledgement of the work's authorship and initial publication in this journal. Work includes the material submitted for publication and any other related material submitted to KMJ. In the event that KMJ does not publish said work, the author(s) will be so notified and all rights assigned hereunder will revert to the author(s).
The assignment of rights to KMJ includes but is not expressly limited to rights to edit, publish, reproduce, distribute copies, include in indexes or search databases in print, electronic, or other media, whether or not in use at the time of execution of this agreement.
Authors are able to enter into separate, additional contractual arrangements for the non-exclusive distribution of the journal's published version of the work (e.g., post it to an institutional repository or publish it in a book), with an acknowledgement of its initial publication in this journal.
The author(s) hereby represents and warrants that they are sole author(s) of the work, that all authors have participated in and agree with the content and conclusions of the work, that the work is original, and does not infringe upon any copyright, propriety, or personal right of any third party, and that no part of it nor any work based on substantially similar data has been submitted to another publication.