Emergence of Stenotrophomonas Maltophilia Sepsis - A Case Series and Review of Literature
Dona Susan Mathew

Sree Gokulam Medical College and Research Foundation, Trivandrum- 695607, India

Ganga Raju

Sree Gokulam Medical College and Research Foundation, Trivandrum

Ivy Vishvamohanan

Sree Gokulam Medical College and Research Foundation, Trivandrum- 695607, India

Ashish Jitendranath

Sree Gokulam Medical College and Research Foundation, Trivandrum- 695607, India

Ramani Bai

Sree Gokulam Medical College and Research Foundation, Trivandrum- 695607, India
Keywords:
SMB, Stenotrophomonas maltophilia, Nosocomial pathogen
Abstract
Stenotrophomonas maltophilia is an emerging nosocomial pathogen that causes fatal infections in critically ill or immunocompromised patients. S.maltophilia bacteremia (SMB) is a rare condition and is assosciated with morbidity and mortality, and its optimal management remains ill defined. The aim of the current study is to review the management of S.maltophilia bacteremia1.
We described five cases of S.maltophilia bacteremia in immunocompromised patients over a period of 6 months from September 2019 to February 2020. In the current review, a few cases had undergone surgical intervention prior to the onset of bacteremia. Prolonged antibiotic therapy (eg carbapenam), healthcare exposure , and prior surgical procedures were the major risk factors associatd with S. maltophilia infection in healthcare settings. Optimal therapy is based on antimicrobial sensitivity , and the trimethoprim-sulfamethoxazole based combination has been shown to be successful.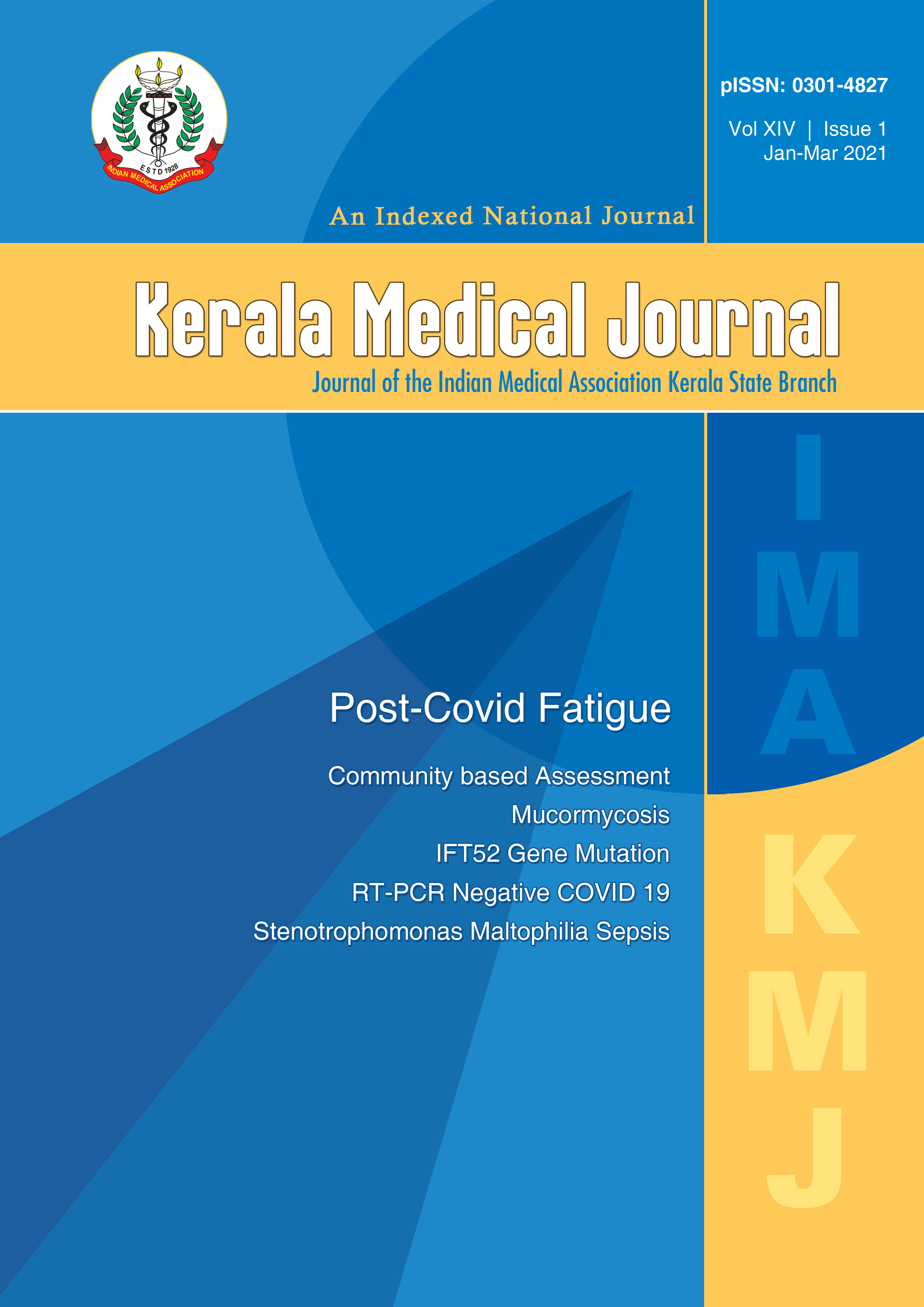 How to Cite
Mathew, D., Raju, G., Vishvamohanan, I., Jitendranath, A., & Bai, R. (2021). Emergence of Stenotrophomonas Maltophilia Sepsis - A Case Series and Review of Literature. IMA Kerala Medical Journal, 14(1), 18-20. Retrieved from https://www.keralamedicaljournal.com/index.php/KMJ/article/view/602